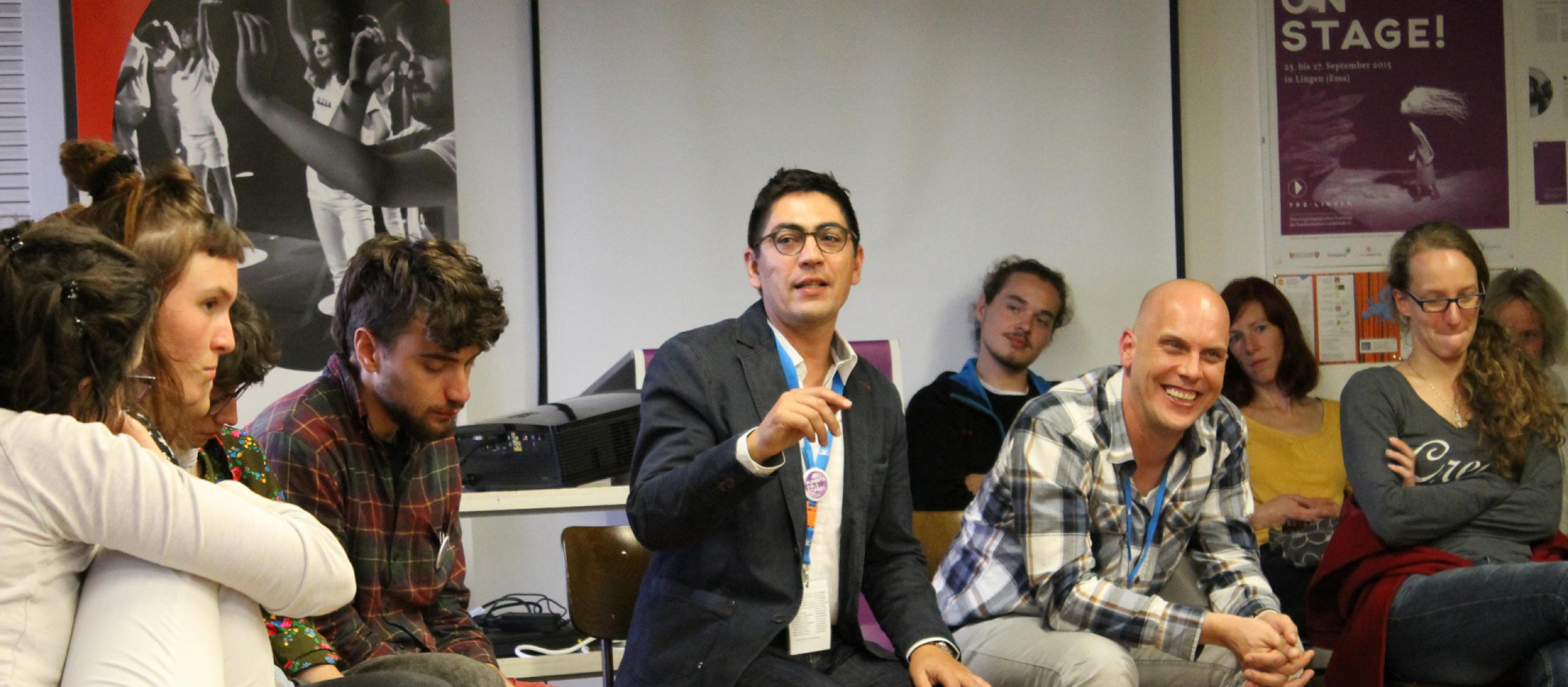 Fachforum Puppentheater und Theaterpädagogik
Conference at the International Festival of Puppetry – Puppets on Stage
In 2015 already for the 17th time the international festival of puppetry ("Fest der Puppen") took place in Lingen, Germany. In 2015 from September 23rd to the 27th. The Center of Theatre Education was organizer of the festival.
Conference "Puppet Theatre and Theatre Pedagogy"
From September 22nd – 24th the European Theatre House organized the accompanying conference with the theme "Puppet Theatre and Theatre Pedagogy".
It was held in cooperation with Institute of Theatre Pedagogy of the University of Applied Sciences Osnabrück, and was an important and permanent section of the festival.
The Forum created a valuable as well as fundamental theory to praxis transfer. Chances, opportunities, and interdependencies between theatre pedagogy and the practice puppetry were highlighted through lectures, discussions, and best practice examples. The proximity to practical examples that the festival and its performances offered, were responsible for the special appeal and high effectiveness of the conference.
Lectures by Prof. Dr. Markus Joss, Claudia Dürr, Miriam Lemdjadi und Harald Volker Sommer
Four speakers were invited to talk about their work with theatre pedagogy respectively puppet theatre. Within the discussion, connecting points between those seemingly very different disciplines were found.
Key note speaker was Prof. Dr. Markus Joss of the Ernst Busch University for Scenic Art. He was accompanied by 4 students, with whom he also held a lecture performance. Furthermore, Claudia Dürr theatre educator of the puppet theatre FITZ! Stuttgart, and free lance theatre educator Miriam Lemdjadi spoke. Harald Volker Sommer, head of the Center of Theatre Education as well as manager of the European Theatre House, talked about points of contact between theatre pedagogy and puppetry.