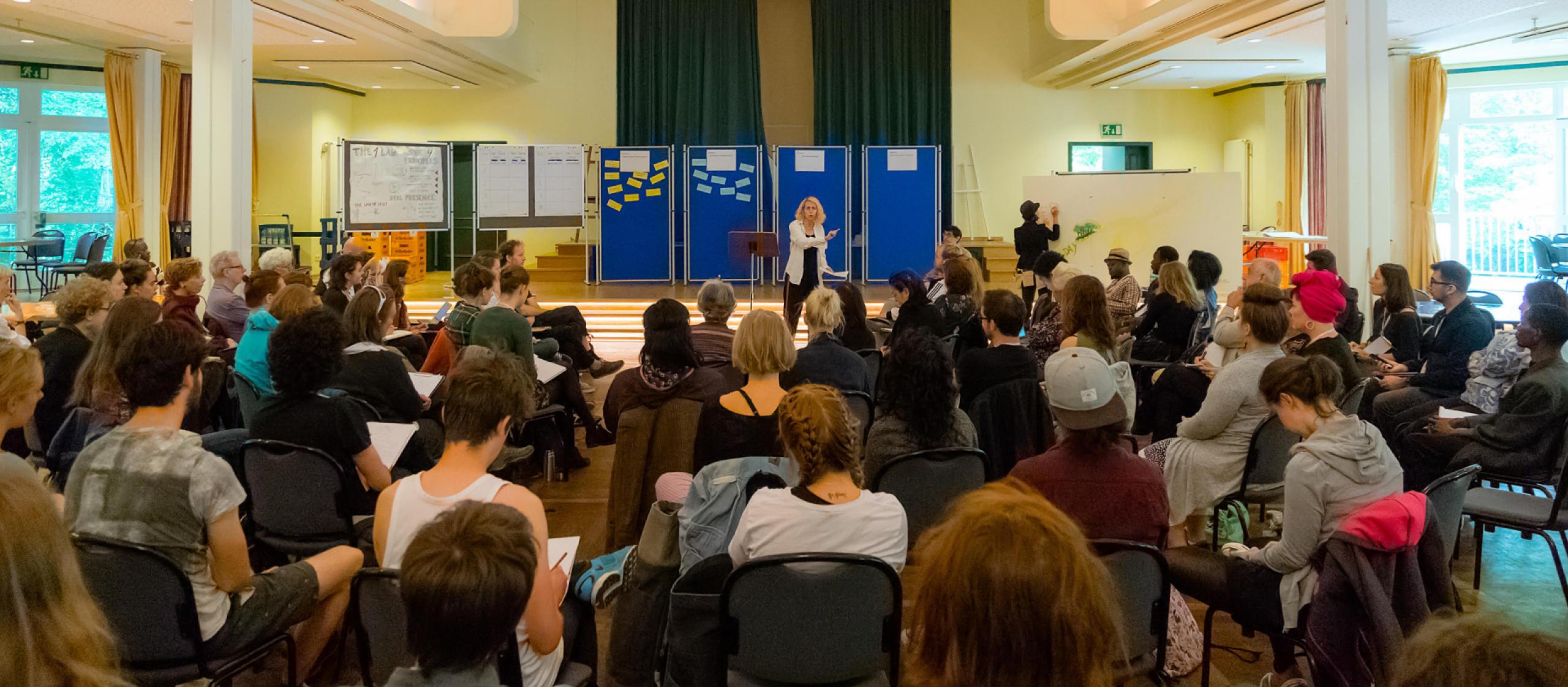 Future Day Theatre Pedagogy
A symposium on transnational questions of theatre pedagogy at the 15th World Children's Theatre Festival in Lingen
The research group "Welcome to the Jungle!" - organised by the European Theatre House (ETH) in Lingen (Ems), in cooperation with the Federal Association of Theatre Pedagogy and the Institute for Theatre Pedagogy of the University of Applied Sciences Osnabrück, Campus Lingen - invited to an International Future Day of Theatre Pedagogy on 27 June 2018 as part of the 15th World Children's Theatre Festival in Lingen.
Prof. Dr. Bernd Ruping welcomed all those present, opened the symposium, and asked the central questions that the research group "Welcome to the Jungle! wanted to share with a broad specialist audience and with a high level of participation from the student body:
What framework conditions make theatrical educational work possible in a transnational context?
Which methods can be helpful to us?
How is an international discourse on aesthetic phenomena possible?
In the first part of the day, four keynote lectures offered an introduction to the discourse, moderated and accompanied by Harald Volker Sommer, co-founder of the research group and former director of the TPZ Lingen and the European Theatre House.
The following impulses were the basis for further discussions:
Theatre Pedagogy as a Hybrid Discipline (Helen Meyer)
How is it possible to facilitate an international discourse on aesthetic phenomena in theatre pedagogy? How should a future education react to this?
Blind spots (Uta Plathe)
How do we make blind spots visible? Which methods and formats promote a process of transformation that can help shape individual and/or social changes?
"The radically foreign" (Lutz Pickardt)
How can we allow the "radical stranger" to happen? How do we discover our own "foreign" within ourselves?
Politics vs. aesthetics (Christel Gbaguidi)
How can the politically necessary be combined with one's own aesthetic will and confronted with one another? How to develop methods and languages for this?
In the second part of the symposium, Benjamin Häring, lecturer for special tasks at the Institut für Theaterpädagogik Lingen, opened an OPEN SPACE in which the themes developed from previous discourses were discussed more widely. At the end of the conference, the research group agreed that the results should be evaluated in the future and that the work should be continued.