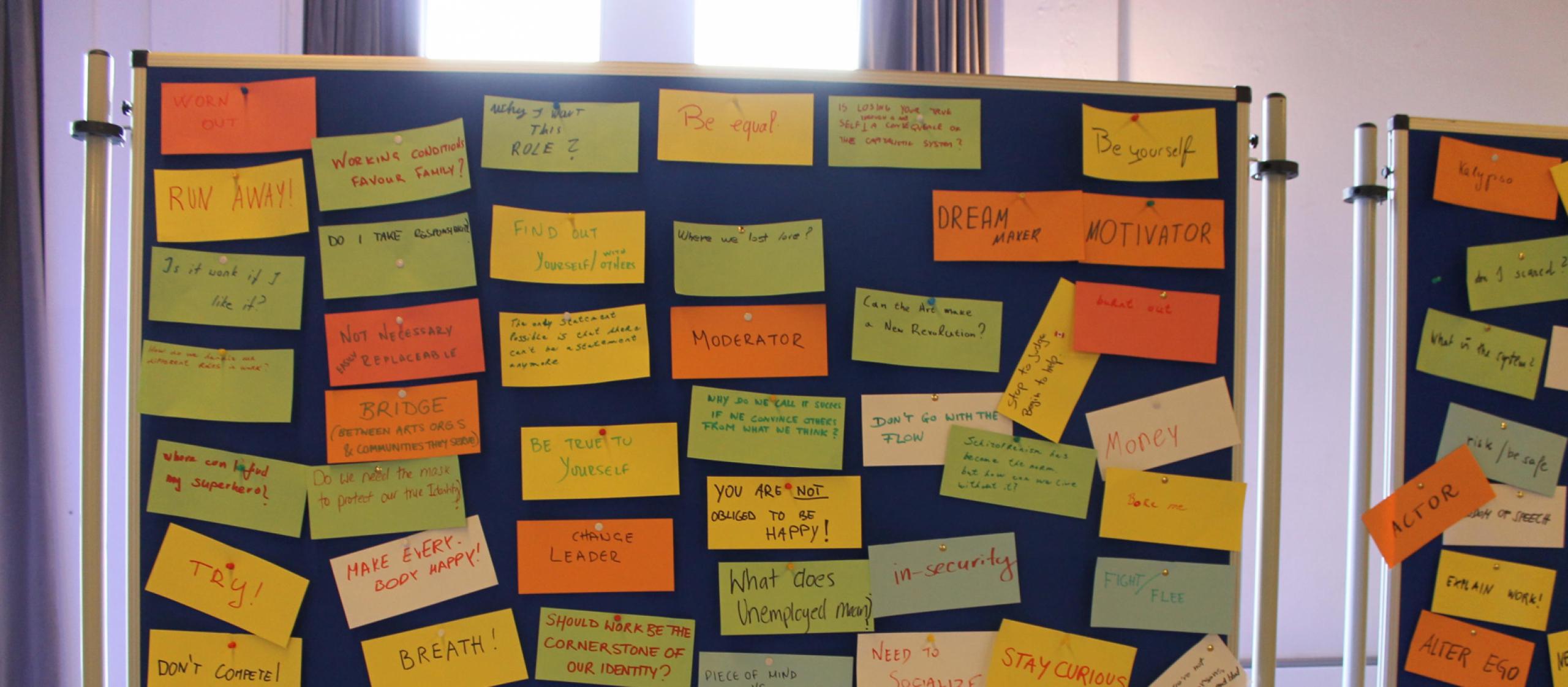 Theatre as a Forum for political Participation
Training of youth workers in theatre
The project "Theatre as a forum for political Participation" served the training of youth workers in theatre and the establishment of theater pedagogy as a way for social theatre work to allow an integrated learning experience with a certain topic.
The project was funded as a learning mobility by Erasmus+.
The project generated several theatre productions respectively work shows. Hence apart from the using and learning of theatre pedagogical methods, there was a vast artistic output within the participating organizations. The artistic output showed the great variety of approaches to the topic "Identity through Work" and helped directors as well as group members in the home countries understand the variations that become possible through the means of theatre.
Participants from 12 different European countries
During the project, directors from 12 different partner organizations came together twice in a peer-learning experience. The months in between the meetings (so called working phase) were used to do theatre work with groups of youth and young adults. Starting with a two-day kick-off workshop in Thessaloniki, Greece, the directors exchanged methods and exercises, in order to direct a theatre group in each one's home country.
On the basis of the simultaneous engagement with the topic "identity through work", which takes place with a theatre group in each country, the directors met again. In a 6-day workshop they reported their experiences of the common working phase, they showed the theatre pedagogical methods, which they used, and they put them up for discussion.
Discussion, Theatre Scenes, Conference
The experiences of the working phase were discussed by the directors in order to determine best practice examples of theatre pedagogical work. Taking the experiences a step further, during the second half of the workshop the participants discussed the value and sustainability of theatre as a social form of art as well as the director's or artist's role in an ever changing society.
Four short theatre scenes were created on the basis of the outcomes and experiences of each director during the working phase.
These scene were incorporated in a conference with a larger group of pedagogues, politicians, and experts of the matter.
The results, which were also be identified through the documentation of the work and the evaluation of the learning success, were displayed through the internet. Through social media and existing networks, like for instance the worldwide organization for amateur-theatre "AITA/IATA", this project was made public in order to reach the highest possible level of distribution.
"Theater as a forum for political Participation" helped establish the potential of theatre work in the social field and formed a network between the participants. Theatre work is a medium for an integrated examination of a field of interest. Hence the project serves as a pilot for future activities.